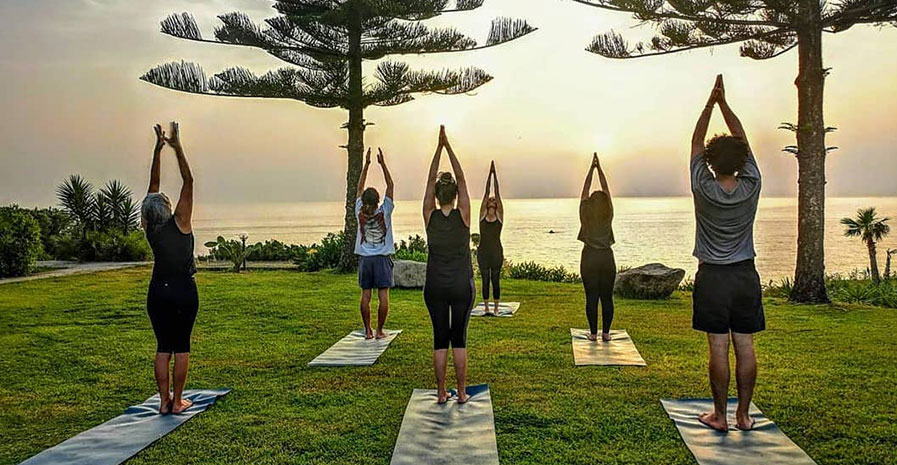 ---
Yoga and Pilates Retreats in Tropea, Calabria
---
If you are a yoga or pilates instructor and would like to guide your group in an unforgettable part of Italy with its magical and charming setting, Tropea offers just that.
Tropea is situated on the coast of Calabria in the Province of Vibo Valentia.
The magnificent region of Calabria boasts striking coastlines and dramatic mountain ranges, quaint old villages and pristine beaches along its coastline.
With its perfect setting, its friendly locals and wonderful cuisine, you'll experience an authentic vacation steeped in traditions and a chance to experience its untouched beauty.
Under a terrace overlooking the beach of Tropea, you can enjoy a yoga or pilates lesson with breakfast to follow by the sea.
We can take you to beautiful locations and with our help, design an extended stay for your group including accommodations in Tropea, private transfers and excursions such as cooking classes in Tropea, hiking tours, boutique wine tours with wine tasting, painting classes, sailing tours and much more.
We can customize your stay to suit the interest of your group.
Here is a sample itinerary:
DAY ONE
Transfer to Tropea from Lamezia Terme Airport, guided walk in Tropea's city center, welcome dinner.
DAY TWO
Morning yoga or pilates class by the sea with buffet breakfast to follow. Free morning in Tropea.
Afternoon wine tour and tasting dinner in Capo Vaticano.
DAY THREE
Morning yoga or pilates class with breakfast to follow. Private yacht excursion along the coast with lunch onboard. Evening free.
DAY FOUR
Morning yoga or pilates class with breakfast to follow.
Cooking class in the hills above Tropea with lunch included under the vineyards. Evening free.
DAY FIVE
Morning yoga or pilates class with breakfast to follow. Morning is free in Tropea.
Guided visit to Pizzo Calabro and then to a local fish auction with dinner to follow in our favorite eatery in Vibo Marina.
DAY SIX
Morning yoga or pilates class with breakfast to follow.
Guided visit to the museum in Reggio Calabria to visit the Bronze di Riace, shop in the main corso, and then your tour takes you to the beautiful town of Scilla.
Lunch to end the day of local delicacies from the area.
DAY SEVEN
Morning yoga or pilates class with breakfast to follow.
Guided visit to a salami production house in Spilinge followed by a picnic in Monte Poro under the pines home cooked by a local Signora of the town.
DAY EIGHT
Transfer to the airport or train station at Lamezia Terme.
Our itineraries include:
A special location for your morning mat lessons with breakfast included on the beach.
Accommodation in a luxury bed-and-breakfast in the heart of Tropea.
All guided excursions with English speaking guide.
Private transfers to and from Lamezia Terme airport or train station. A
All meals listed in each itinerary, including Calabrian DOC wines.
Private driver for all transfers to and from each excursion listed in your itinerary.
Our itineraries give you a chance to enjoy enough down time to explore the beautiful town of Tropea with its shops, bars and many restaurants. Also, not to forget to mention, time for lazy mornings or afternoons on the most incredible beaches below. All within walking distance from your accommodations.
Contact us to start planning your yoga or pilates retreat in Calabria.