In Italy Tours in Calabria is owned and created by Tania Pascuzzi. Born in Australia to Italian parents, Tania specializes in creating unique vacations in Calabria.
It was my passion for good food, good wine and good company that led me from a fashion career in New York City all the way to the beautiful coastal town of Tropea where I have resided for over 12 years.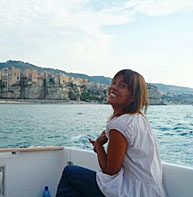 There's nothing I love more than to share my passion for authentic cuisine and culture with you as my guests by finding and creating bona fide, authentic experiences in Italy's southern region of Calabria that you won't find anywhere else and you certainly won't forget.
Why Calabria?
I was born and raised in Australia to Calabrian parents. My father, a winemaker, and my mother, a traditional Italian cook, taught me a lot about time-honored recipes and good wine from early on. I began vacationing on Calabria's coast, meeting wonderful local people and gathering knowledge of the varying culture and cuisine in each of the region's villages each time I visited. My passion and insight grew until I knew that my calling was here – to share the Italy that most tourists never experience.
I decided to base myself in Tropea, Calabria because of its beauty, the exquisite beaches and the friendly locals. In 2009 no one here had heard of teaching cooking to foreigners, and I was able to tap into a wonderful opportunity to offer guests intimate cooking lessons with locals who wanted to join in my passion for sharing their love for the region.
A tour unlike any other
My aim is to bring that "once upon a time in Italy" feeling to every tour I create. Through my personal experience, I have had the opportunity to visit towns and places in Calabria, untouched by the influx of tourism. The real Italy.
Each itinerary offers a genuine experience in a particular province of the beautiful region of Calabria with our team of amazing local fisherman, chefs and signoras who know their regions well and impart their traditions, recipes and knowledge to you. Alongside them, you will cook, eat, drink and laugh…and leave feeling like part of the family.
Walking Tour photo credits: Anita Jilg, Tania Pascuzzi , Alex Coppel