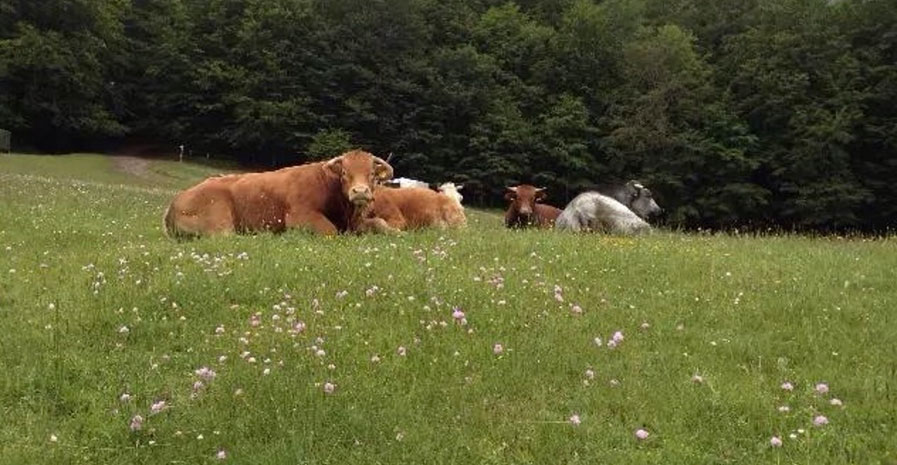 Enjoy the beautiful scenery of the Vibo Valentia region as you explore through the lush, rolling hills of the countryside in this unique walking food and wine tour. This itinerary gives you the opportunity to visit local food artisans, tour an organic vineyard and take personalized cooking classes in a typical rustic farm.
One of the most beautiful provinces in Calabria, the Vibo Valentia region boasts beautiful panoramic views. Rolling hills give way to lush valleys boasting quaint villages and hamlets with the Tyrrhenian Sea as a sparkling backdrop.
You'll picnic in a private vineyard and cook in a rustic al fresco kitchen at a farm surrounded by olive groves and learn the secrets of Calabrese cuisine.
A walk through Calabria offers another unique experience. You'll explore an authentic, untouched part of the region as you walk along ancient trails exploring medieval churches and villages along the way with breathtaking views of the Tyrrhenian Sea, lush green hilltops and mountains.
Your base is set in Tropea where you'll be able to enjoy the city's center, full of restaurants, bars and shops. Tropea also sits 20 meters above one of Italy's most famous and scenic beaches.
YOUR WALKING GUIDE
Your guide, Anita, is an experienced trekking guide and local of the Vibo Valentia province. She is devoted to exploring the beautiful region of Calabria and creating the most scenic and unique hiking routes specially for your walking and cooking tour. As you walk, Anita will introduce you to the wonderful sights, smells and tastes of the region.
TOUR HIGHLIGHTS
Scenic hikes boasting beautiful views Wine tasting at a local vineyard
Visit to a historic flour mill
Cooking classes in a local cassetta
Home cooked lunches with locals at a rustic farm in the countryside of Calabria Visits to remote beaches of Vibo Valentia
LEVEL
The level of this itinerary is medium. Walks can last up to 3- 4 hours with short breaks in between. .
WALKING AND COOKING TOUR ITINERARY
DAY ONE
Transfer from Lamezia Terme airport or train station.
Arrive at your accommodations in the heart of Tropea and settle in.
Welcome dinner in the center of town in one of our favorite eateries with wine included.
DAY TWO
Walk from Caria to Tropea
After breakfast our driver will transport you to the town of Caria which is situated 450 meters above sea level above Tropea. Caria was once known as an important village where the most of noble families lived called Toraldo. The castle is its most prominent feature alongside the production of the butter bean which is produced today in the area. You will visit the town's church and castle which was the holiday home of the family and from there explore the lush countryside where you will be surrounded by century old olive trees and learn about the production of olive oil. You will also pass the site where there was once an apparition of Jesus which today is known as sacred amongst the locals of the area.
You will arrive and see the harbor of Tropea and from there start to descend into a lovely valley surrounded by limestone. You will continue your walk through a small water source until you reach a limestone grotto. From there continue your walk into the town of Drapia, a small village that sits above Tropea. At this point you will be able to admire the beautiful views of Tropea and the Tyrrhenian sea.
Close by you'll arrive at a restored watermill that produces wheat. Lunch is served at the mill by a local signora of typical calabrese delicacies and local wine.
Walking description 450 meters downhill.
DAY THREE
Walk from Lago Angitola and Pizzo Calabro
Today's walk will have you head off with our driver north of Calabria into the province of Vibo Valentia to Lake Angitola. The lake was artificially created in 1966 on the old bed of the river Angitola. The lake is surrounded by hills and olive groves. Due to its climate conditions it attracts more than 100 species of birds. From there you will walk to an ancient fortress where a few ancient walls remain.
Continue your walk to the beautiful seaside town of Pizzo Calabro. Soon the way will bring you downhill as you admire the wonderful views over the gulf of Lamezia Terme and the mountain range of the north, La Catena Costiera which boasts the highest mountain range called Monte Cucuzzo.
Once you arrive into the town of Pizzo you will walk to the charming historic center of town.
Lunch will be in the historic center of Pizzo Calabro in a lovely restaurant with wine included. You will also have the chance to taste the famous artisan gelato called tartufo.
Walk description 200 meters uphill and 200 meters downhill total 3 hours walking time.
DAY FOUR
Cooking Class in Brattiro
Today you will experience a wonderful cooking class in the family run agriturismo of our dear friends Laura and Daniele. We will be cooking typical calabrian recipes al fresco.
Situated in the olive and lemon- tree strewn hills minutes from Tropea, Laura and Daniele will treat you to an antipasto of locally produced cheeses, salamis and wine. You'll stroll through their private farm to select seasonal fruits and vegetables for your cooking class and for a
menu, which will also feature an array of local meat and vegetable dishes and 'fileja', the signature pasta of Tropea.
After your cooking class, enjoy the fruits of your labor under their vineyards. Local wine, dessert and homemade liqueurs included.
DAY FIVE
Walk to Papaglionti and Zungri
Today's walk will start in Papaglionti. This town has become one of a few abandoned towns in the province. You will explore and walk through the town which was abandoned from damage due to a flood in 1952. As you walk and explore you can imagine how life might have been once upon a time. You'll see old churches and abandoned houses. Toward the end of the village you'll see a cavalry also and from there you'll continue your walk to Zungri. You'll descend into a valley and pass a waterline. A walk uphill then down again to pass by an ancient bridge until you reach an old wheat mill. You'll arrive in Zungri which is famous for the old ancient grottos which date back 800 BC.
Lunch will be prepared and served by two sisters from the area. They will cook old calabrian recipes from the area and you'll enjoy the once upon a time feeling of old Italy in a farmhouse. Our walking guide describes this day as stepping back in time with a lovely atmosphere.
Total walking time is 4 hours 600 meters uphill and 600 meters downhill
DAY SIX
Wine Tour at a private vineyard with lunch and wine tasting in a private villa in Capo Vaticano.
Gazing over the sparkling Tyrrhenian Sea, the quaint town of Brattiro boasts a sweeping countryside famous for growing some of Southern Italy's most flavorful wine varietals. As the main producer of magliocco canino, magliocco dolce and mangiaguerra grape varieties, Brattiro's ample climate gives them the robust flavor the area's wines are known for.
We will meet a local wine producer and tour his vineyards and cantina in the town of Brattiro. You'll learn the history of the ancient vineyards and how each grape plays a significant part of the wine production. Next, we'll take you on a guided tour of the cantina to learn about the unique process that gives each of these wines a robust flavor.
After our visit we will head to Capo Vaticano where we will be treated to a 4 course lunch prepared by a chef in his private villa. Each course will be served with a wine pairing featuring his favorite wines of Calabria.
DAY SEVEN
Your trek starts in Palmi where you'll hike through a grove of chestnut trees along an ancient stone path that was once built for villagers traveling by donkey. You'll pass a small bridge and arrive at a beautiful forest which lends way to spectacular views of the Calabrian coast below.
From the forest, you'll continue on to Monte Elias. A short walk to the top and you'll arrive at a family run trattoria.
Enjoy lunch at this local eatery.
After lunch, we'll stop to visit an ancient church of Monte Elias, built to dedicate the life of the monk Elias who lived as a hermit in the 17th century.
From there, we'll descend back to Palmi along ancient wooden steps. Walking time is 4 hours 350 meters uphill and 350 meters downhill.
DAY EIGHT
Fish Auction in Vibo Marina with seafood dinner by the sea.
Spend the morning and day at the beach or in the old town of Tropea. Today you can relax.
In the afternoon we will take you to Vibo Marina. This marina is famous for its fishing and you'll have the chance to visit the local fish auction . We'll see fishermen arrive in ships where they have returned from an overnight fishing trip in the waters of the Tyrrhenian sea.
We'll meet chef Enzo and watch the local restaurant owners as they barter for the day's catch. We'll head off to Enzos restaurant which sits on the beach and enjoy the kitchen's demonstration of cleaning and preparing the day's catch in their kitchen. We'll dine at the restaurant and enjoy the most beautiful seafood meal as we watch the sunset overlooking the sea.
DAY NINE
Departure day and transfer to Lamezia Terme airport or train station.
Price includes
Private transfer to and from Lamezia Terme airport or train station
Eight nights / nine days in a luxury bed and breakfast in the center of Tropea. Breakfast is served daily.
Welcome dinner in Tropea.
English-speaking certified walking tour guide throughout your stay. Private driver to transport you to all excursions listed in your itinerary All meals specified on the itinerary with local and DOC wines included. Four guided walking excursions in Calabria
Cooking classes in Tropea and Vibo Marina.
Wine tasting in a private organic vineyard with lunch included in a private villa Guided visit to Pizzo Calabro and visit to a local fish auction in Vibo Marina All entrance fees to places listed in the itinerary.
All meals listed in your itinerary
Contact us for pricing and availability.