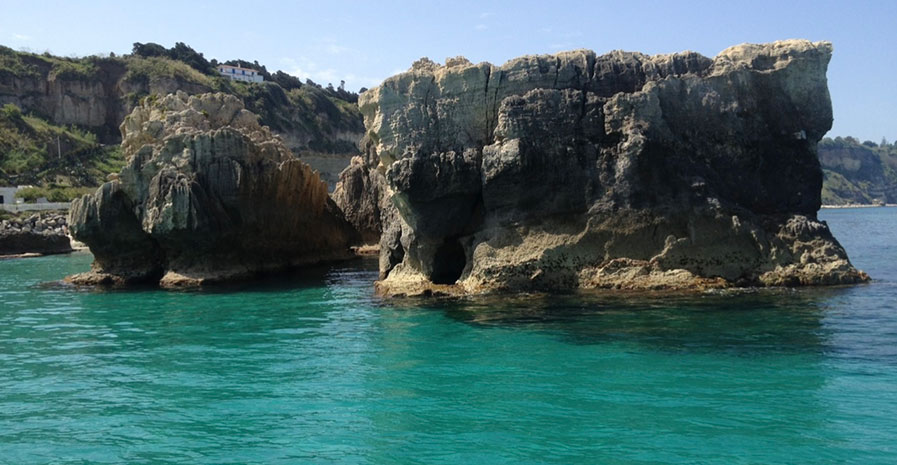 PRIVATE BOAT TOURS IN TROPEA
Labeled as one of the most beautiful beaches in the world – Capo Vaticano
The coastal stretch from Zambrone to Capo Vaticano has been named 'Costa degli Dei' The Coast of the Gods.
You will soon understand why as you sail along these magnificent waters to Capo Vaticano. It boasts crystal clear waters and magnificent granite cliffs which have fascinated many geologists from around the world.
The famous Venetian writer Giuseppe Berto made Capo Vaticano his home after traveling all over Italy and it was here that many of his works were inspired.
In ancient times, it was described as a sacred place where many fortune tellers and priests had traveled to the Cape to predict futures based on the flights of the birds.
YOUR SKIPPER
A native from Tropea and experienced fisherman, Francesco was practically born sailing the waters of Tropea. A retired physical education professor has now dedicated his life to sailing the Calabrian coast and fishing most mornings.
BOAT TOUR TO CAPO VATICANO
You'll be fascinated by the beauty of this stunning cape. Swim or snorkel in the acqua blue sea or just bask in the sun as you admire the unforgettable views.
Arrive at the cape and enjoy your visit by either swimming, snorkeling or relaxing on the deck in front of the granite cliffs and grottos of this beautiful destination.
Your boat excursion includes your skipper to take you to beautiful locations along the coast. Our morning boat tours include lunch on board with wine included.
FISHING TOUR IN TROPEA
Enjoy sailing the crystal clear waters of the Tyrrhenian sea from the port of Tropea with Francesco Francesco will set sail and find his secret spot where a guarantee of local fish can be caught. Your setting is magical as you spend a relaxing and insightful day gazing at the houses
embedded on the cliff of Tropea or just to simply take in the glorious sun and swim in the aqua blue sea of Tropea..
You'll learn to identify the local fish caught in these waters which play a major role in the cuisine of Calabria's coast.
The morning is spent learning from his techniques on catching local fish from the Tropean waters close by from the town of Tropea.
Lunch is included and prepared onboard with local DOC wine.
SUNSET BOAT TOUR IN TROPEA
Sunset boat excursions are available and start early evening in the summer months and include a dinner prepared by Francesco with plenty of wine.
Your meal is served as you watch the sunset over Tropea's historic center.
Meeting point for all boat excursions is at the main port of Tropea.
If you would like to be transported to the port from Tropea's center an extra fee of 10 euro is required.
Different rates apply for your transfer depending on your location.
We can accommodate up to 6 people for all boat excursions. If you have a larger group, please contact us so we can arrange a larger yacht for your group.
If you require an English speaking guide, a price of 120 euro is required.
Contact us for pricing and availability.