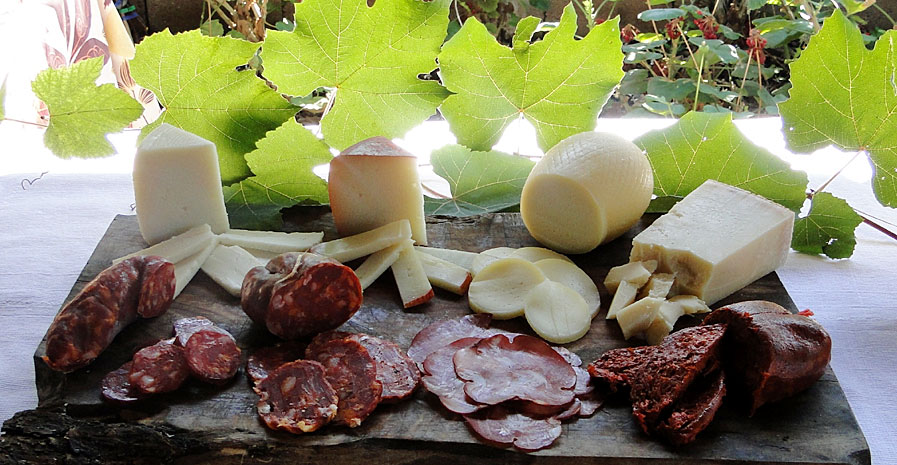 ---
Food and Wine Tour in Calabria
---
Join us for an authentic culinary, food and wine journey based in the beautiful medieval town of Tropea.
Enjoy hands-on cooking classes in Tropea in this unique tour of Calabria's most beautiful coastal town. The itinerary includes visits to vineyards with wine tasting, a salami production house, a fish auction in Vibo Valentia and cooking alongside prominent chefs and home cooks of the region.
A magical setting
Historically rich, yet boasting a warm and lively, contemporary appeal with its family-run bars and restaurants, Tropea sits proudly on a 'tuffo' rock 50 meters above one of the most beautiful beaches in Southern Italy. Here, you can explore medieval and prehistoric palazzos as you saunter down cobblestone streets during your free time. Tropea's quaint cafes and bars offer an occasion to sit, relax and admire the breathtaking views of the sea below and experience the promenade, where you can see the famous landmark of Tropea – Santa Maria Dell'isola.
YOUR EIGHT DAY ITINERARY DAY ONE
Arrival Day and Dinner.
Private transfer from the airport or train station at Lamezia Terme to Tropea
Settle into your accommodations. Enjoy your surroundings, exploring the medieval town of Tropea and admire the spectacular views of the Tyrrenian sea.
In the evening dinner is served in one of our favorite eateries in town.
DAY TWO
Wine Tour Brattiro with lunch and wine pairing in Capo Vaticano
In the morning we will visit a private vineyard and cantina in Brattiro where we will visit the vineyards which have been revived from generations and which are exclusive to the area. We'll visit the cantina and learn about the production of the perfected, aromatic red and white wines, some of which have been prized in Italy.
We'll follow with a wine tasting and light aperitivo.
We'll then head to Capo Vaticano to see the most beautiful views of the cape from a viewing point.
We'll finish our day with a long lunch personalized by one of our favorite chef's with a wine pairing which will feature wines from Calabria.
Transfer back to Tropea.
DAY THREE
Cooking class in the hills above Tropea
Today we will head for the hills above Tropea and join Laura and Daniele in their family run agriturismo.
We will cook alfresco, the recipes handed down from Laura's family including homemade pasta of the province called fileja, meat and seafood dishes and seasonal vegetables with plenty of wine on hand.
We'll then enjoy the fruits of our labor under the vineyards of their property with Laura's homemade dessert included.
Transfer back to Tropea.
DAY FOUR
Ricotta Cheese making class
Today we will head to Lamezia Terme which sits in the province of Catanzaro to learn how to make ricotta cheese. This production house will teach us how the ricotta is made and we will be hands on making the cheese at their factory. We will enjoy a tasting of the products they make including local salamis and cheese from Calabria.
Lunch at a local restaurant close by to enjoy Catanzarese cuisine. After lunch, transfer back to Tropea.
DAY FIVE
Visit to Salami production house in Spilinge and Sunset sail along the coast of Calabria Today we will head to the town of Spilinge which is the birthplace of the famous Nduja salami.
We will be on a guided tour of the premises to learn how this delicious spicy salami is made from scratch. If the season suits us we will see the production of the chili peppers which play an important role in the flavor and quality of the salami.
We'll follow with a tasting of various salamis and Nduja and cheese made on the premises. Lunch of traditional dishes will follow under the pine trees in Monte Poro with local wine included.
Transfer back to Tropea to wind down or relax on the beach.
Early evening private boat tour with our skipper Francesco with light dinner onboard.
DAY SIX
Pizzo Calabro,Visit to a fish auction and dinner by the sea with Chef Enzo After breakfast, you can enjoy a free morning in Tropea.
Tropea's historic center has many cafes, stores and restaurants. The town has three viewing platforms, where you can sit and enjoy a wine overlooking the sea and the famous landmark of the town- the promenade, where the church 'Santa Maria del Isola' is situated. You can also spend the morning at the beach below, all within walking distance.
Afternoon, we'll head for Pizzo Calabro, a beautiful coastal town and birthplace of the gelato tartufo.
We'll take a walk through the charming city center and tour the Piedigrotta, a famous grotto built on the beach of Pizzo boasting life size sand stone sculptures.
We will then visit the local fish auction at the port in Vibo Marina where we will meet Chef Enzo.
We'll enjoy the day's catch and see Enzo's kitchen and watch him prepare his dishes.The restaurant is known for it's fresh seafood and wonderful cuisine where he carefully selects ingredients from the region, including bergamont from the southern part of Calabria. We'll then dine at his restaurant for an exquisite dinner which is situated on the beach.
DAY SEVEN
Afternoon making sweets of Calabria with Signora Anna
Today you can enjoy a morning in Tropea at your leisure. You can visit the beach or catch up on some last minute shopping in town.
In the afternoon we will visit Signora Anna and bake and prepare alongside her the traditional sweets of Calabria that have been passed down generations and that are still enjoyed today during different religious feast days of the year. We will prepare and bake and then enjoy a pasta dish with the sweets we made to follow. Anna's homemade liquors are included
DAY EIGHT
Departure Day
Transfer to Lamezia Terme airport or train station.
Price includes:
7 nights 8 days in a luxury B&B situated in the center of Tropea Breakfast served daily.
Private transfer to and from Lamezia Terme airport or train station Welcome dinner in Tropea.
Wine tour in Brattiro with wine tasting
Private lunch with a chef with a wine pairing from Calabria Ricotta making class with lunch in Aquario.
Cooking class with lunch included Guided visit to Pizzo Calabro.
Visit to a fish auction in Vibo Marina with seafood dinner by the sea Baking sweets of Calabria in a private villa with dinner included Private sunset boat tour with dinner onboard.
Guided visit to a salami production house in Spilinge with a tasting included English speaking guide throughout your stay.
Private transfers to and from all locations listed in your itinerary.
Most of our itineraries do not include dinners because our lunches are very long which gives you the opportunity to unwind, relax and enjoy the town of Tropea or the beaches below the town. There are many restaurants and bars open where you can enjoy a light meal or aperitivo.
Contact us for pricing and availability.