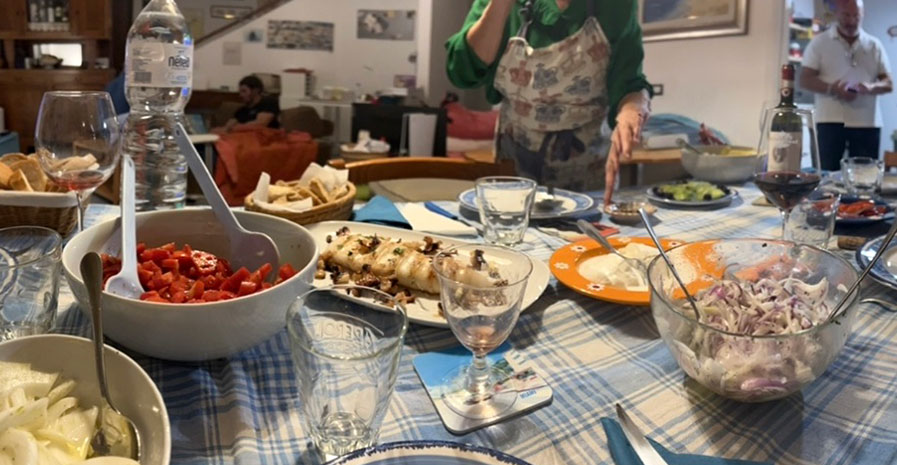 COOKING WITH THE LOCALS TOUR 2023
A unique experience that takes you straight to the heart (and homes) of Calabrian cuisine. Enjoy personalized cooking classes in Calabria in the private homes of our local friends.
This tour is for people who love Italian food, good wine and good company and who would like to learn how to prepare authentic, Southern Italian dishes from those who have been cooking from recipes passed down through the generations – the locals.
Join Tania as she takes you directly into the kitchens of local friends known to her for many years and, more importantly, who are also known and admired for their skill in cooking traditional dishes from this beautiful region of Italy.
Common to all six cooks is their passion for maintaining the very spirit and taste of "la cucina Calabrese" and their enthusiasm for showing how these dishes can be replicated in your own kitchen.
The main ingredient that sets this tour apart from the formality of a conventional cooking tour is that you will be in the relaxed and informal setting of your host cook's home whilst having the opportunity to be "hands on" in the preparation of the diverse array of dishes you will be introduced to during your Calabrian culinary adventure.
Whilst the venue of each cooking class will differ from day to day, the warmth and generous hospitality of your host cook will be the same, ensuring that you experience an abundance of fun and "la dolce vita" of Calabria!
Location & Accommodation
You will be staying in the center of Tropea, Calabria, a magical, medieval coastal town situated on a sandstone cliff overlooking the Tyrrhenian Sea. The sunsets are stunning, as are the views out to the Aeolian Islands of Sicily, one of which is Stromboli with its famous volcano.
Luxury B&B accommodation is provided and includes private bathroom, air conditioning, free Wi Fi and TV. From there, you will have very easy access to Tropea's many shops, bars, cafes, restaurants, and the beautiful beach that sits below the town.
ITINERARY
Each day is dedicated to an evening or morning cooking class, leaving plenty of time to relax on the beach or take in the sights and atmosphere of Tropea.
DAY ONE
Transfer to Tropea from Lamezia Terme Airport. Settle in and relax in your new surroundings.
Welcome dinner at a local restaurant in Tropea.
DAY TWO
Cooking class in the hills above Tropea
Today's class will feature homemade pasta, meat and fresh seasonal vegetable dishes.
We will meet our local friends Laura and Daniele in their magical agriturismo which boats vineyards, fruit trees and olive groves. We will cook alongside Laura and learn local recipes from the area including the local pasta fileja with traditional home made sauces.
We will prepare meat and seasonal vegetable dishes and tour the premises, taste local home made wines and follow with an elaborate lunch under the vineyards.
DOC wines included desert and homemade liquors. Transfer back to Tropea.
DAY THREE
Seafood cooking with Chef Enzo in Vibo Marina Fish Auction Tour and seafood class in Vibo Marina
In the afternoon we will head to the seaside town of Vibo Marina
We will arrive at the local fish auction in time to see the day's catch which arrives on ships that have been in the waters of the Tyrrhenian sea overnight. We will meet Chef Enzo and from there we will head to his restaurant which sits by the sea. We will watch and help clean the day's catch and learn on how to prepare delicious seafood dishes.
An aperitivo by the sea is included with seafood dinner and DOC wines. Transfer back to Tropea.
DAY FOUR
Baking sweets with Signora Anna in Tropea Baking and preparing Calabrian Sweets
After breakfast enjoy a free morning exploring the lovely town of Tropea or visiting the beach below.
In the afternoon we will learn to make traditional sweets of Calabria with Signora Anna in her home in Tropea. Anna will teach us how to make traditional sweets which play a significant role in religious feast days in Calabria. We will use local ingredients such as honey, almonds and seasonal fruits.
Dinner will include a home made pasta dish and antipasto, prepared by Anna with our sweets to follow.
Transfer back to Tropea.
DAY FIVE
Cooking Class with Chef Antonio Violante.
Today we will head to Capo Vaticano which boasts beautiful views of the Tyrrhennian sea and coast of Calabria.
Today we will learn from Chef Antonio Violante the secrets to his calabrese cuisine which has given him high acclaim in the restaurant world in Italy.
We will learn to make various dishes and pair them with Antonio's choice of DOC wines from Calabria.
We will follow with lunch outdoors in the gardens of his agriturismo.
After lunch we will go to a viewing platform to admire the views of the cape before heading back to Tropea.
DAY SIX
Departure Day
Transfer to airport or train station at Lamezia Terme
Price includes:
Five nights and six days in a luxury Bed and Breakfast in Tropea's historic center Private transfer to and from the airport or train station at Lamezia Terme Breakfast served daily
Welcome dinner in Tropea
Cooking Class in Brattiro with lunch included
Cooking Class and guided visit to local fish auction in Vibo Marina with dinner included Baking and preparing sweets of Calabria class with dinner included
Cooking class in Capo Vaticano with lunch included
Private driver to take you to and from all locations listed in your itinerary English speaking guide
All meals include local DOC wines of Calabria and dessert and coffee and liquors
Our meals for each excursion are long which is why we don't include dinners. This way you can unwind by either enjoying sunsets or mornings on the beach or strolling through the charming town of Tropea's historic center.
Your accommodations include a private bathroom, free wifi, air conditioning, SkyT.V and mini bar. The rooms are spacious and there is a rooftop terrace where breakfast is served and where you enjoy sunsets with a glass of wine in the evenings.
Contact us for pricing and availability.