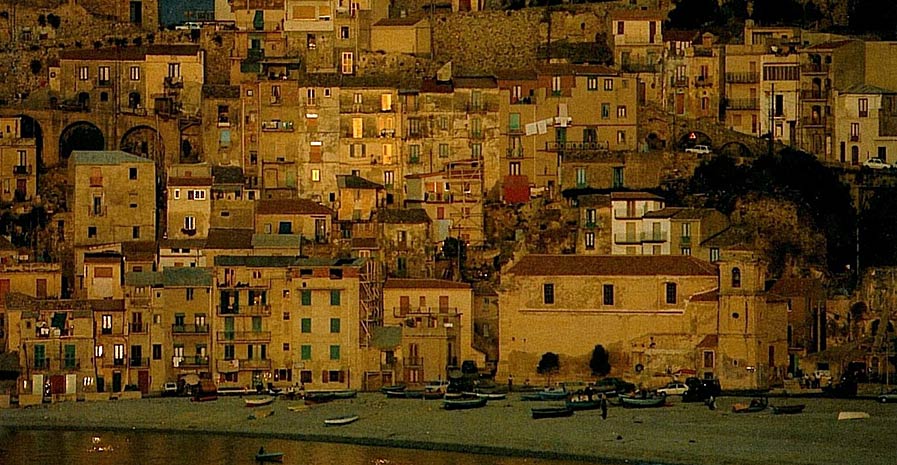 ---
1-Day Yacht Cruise to Scilla
---
Spend an unforgettable day sailing the enchanting waters of Calabria's coast to the mythical fishing village of Scilla, where you can relax, swim and take in breathtaking views. Our luxury yacht will carry you from Tropea to Scilla, the village best known from the legend of Ulysses.
Scilla
As if untouched by time, Scilla's 17th century buildings stand proud just as they did hundreds of years ago. The quaint neighborhood of Chianalea, still a fishing village, features charming, pastel houses built right into the cliffs along the shoreline. It is here our yacht will dock, offering picturesque views of the impeding coastline and a chance to tour the historic town.
Wander through the streets of the city's historic downtown and you'll find a beautiful castle, which offers a great place to view the houses and coastline Chianalea. Or take a dip in the cool, clear water.
View all of our Italian vacation tours!
What to see in Scilla
Your visit will encompass continual panoramic views over the Tyrrhenian sea.
Fishing was the main economy of Scilla and today you can see old fishing boats that sit right next to the old pastel houses on the water.
The Ruffo Castle is situated between Chanalea and Scilla's main center and sits above the cape that is wedged over the sea.
There are many churches to visit including the Chiesa Maria SS Immacolata and the San Giuseppe Church, the Carmine Church and San Rocco Church, all of which were constructed to celebrate the end of the Plague from 1640 till 1752
Your Vessel
Step aboard the Sun Odyssey, our luxury yacht for the day, and you'll discover an array of amenities. It features 4 private rooms, each equipped with bathrooms and showers, a spacious dining area where you'll enjoy local, handmade Calabrese salamis, artisan cheeses and regional Calabrese wines, and a beautiful outdoor viewing deck.
1-day cruise schedule
Depart the Port of Tropea at 9:30 am.
On our way to Scilla, we'll cruise along the coast of Calabria, stopping in Capo Vaticano. Here you can admire the natural beauty of the Cape and discover the hidden grottos carved into the seaside.
Snorkel, take a swim in the aqua water or sunbathe on board.
After a short stop in Capo Vaticano, we'll arrive in Scilla where you can enjoy a leisurely lunch on your own in town. Or we can provide a buffet lunch on board the yacht for an extra charge.
Discover Scilla's rich history as you stroll through the mythical city.
Board the yacht, and sail back to Tropea by early evening. Catch the gorgeous Calabrese sunset as we cruise along the coast.
Yacht departs at 9:30 am and returns to Tropea at approximately 7 pm.
Maximum people on board 8.
Contact us for pricing and availability.